About us
The main business of
BAUHAUS
company is the building section, especially executing the raw structure (open shell) of different types of buildings i.e. residential, industrial and commercial objects. Over the 19 years of presence on the building market,
BAUHAUS
has built more than 600 buildings. Providing expected quality and meeting deadlines, we gained recognition among building and construction specialists. Our company's portfolio includes such big investments as office buildings, residential buildings including high- rise buildings , hotels, shopping centres, factories, industrial installations and other specialised works connected with reinforced concrete and masonry.
Our team
We are experienced in realization of investments hiring well organized and practiced employees. The main aim for us is to bring satisfaction to our clients through meeting all deadlines in finishing investments, at the same time we offer an advantageous level of prices and very good quality. A big advantage in our business is the personal activity of our high qualified engineers and employees to create a good name of the company. Reliable completion of contracts is a part of BAUHAUS  philosophy, from the beginning directed to consequent and dynamic development. Success of BAUHAUS has been achieved through new style and dynamics of work that create a rewarding quality. We have left old-fashioned formulas and standards behind.
Achievements
BAUHAUS is one of the best managed companies in Poland. You can find us on the '500 Managers of 2013' list which has been created by Polish business magazine 'Puls Biznesu' in cooperation with international economic information agency Bisnode D & B Polska. In '500 Managers of 2013' rating, companies were selected on the basis of the minimum risk in cooperation, financial reports available in Polish National Court Registry and database know- how.
Scope of work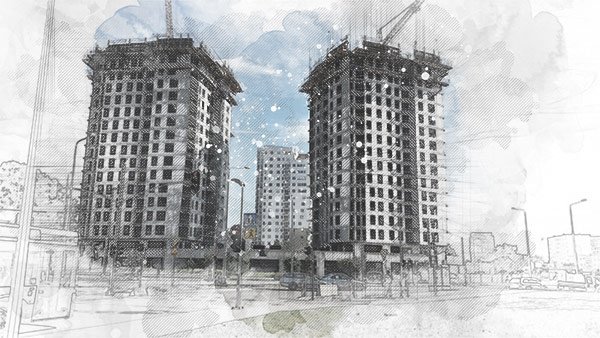 Residential buildings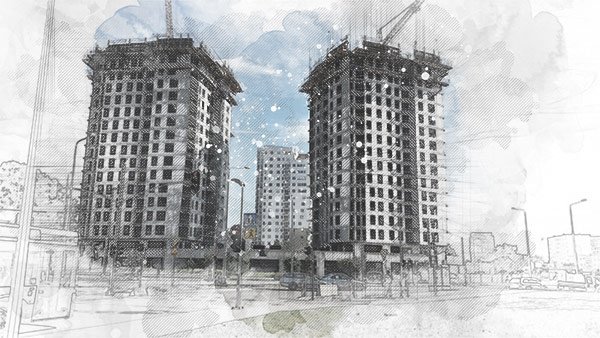 CentralPark
Execution of the structure (raw state) and the insulation of the ground stage ("zero" stage) of two seventeen-storey buildings. The buildings are 63,3 and 62,1 meters high. The monolithic reinforced concrete structure of the building excluding the precast reinforced concrete stairs over ground.
Commercial buildings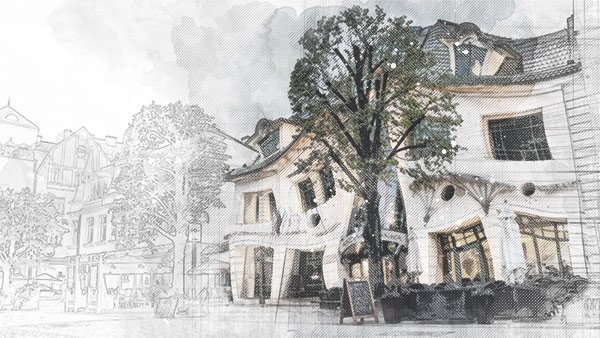 Krzywy Domek
The structure of the building is made of steel elements- the pillars and binders, as well as reinforced concrete – the foundations, and in-situ cast concrete walls and ceilings. The scope of work included bricklaying works – the filling walls made of concrete blocks, solid bricks and Porotherm-type bricks. Additionally, a facade wall, reinforced concrete elements of the structure like pylons, studs, lintels, cornices, and a wall made of the untypical cellular concrete of the YTONG-type were also executed within the works.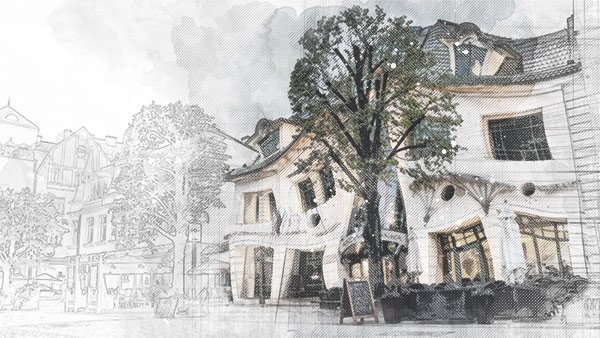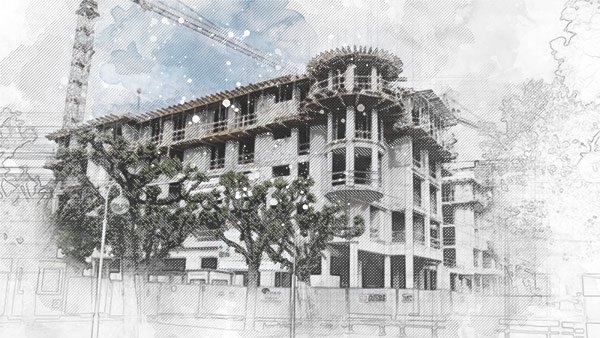 Hotels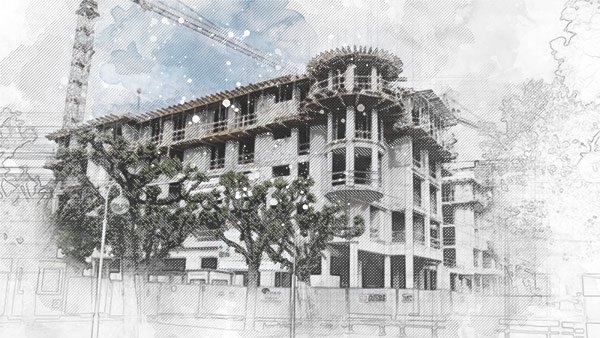 Sheraton Hotel
The underground part of the building is made of watertight concrete. The overground part is made of traditional concrete with ceilings made of the Filigran-type prefabricates. Some more space was gained in the last storey – the functional attic – by executing the reinforced concrete curve and a shell (length: 10m, diameter: 4m) which are visible in the shape of the roof.
Industrial buildings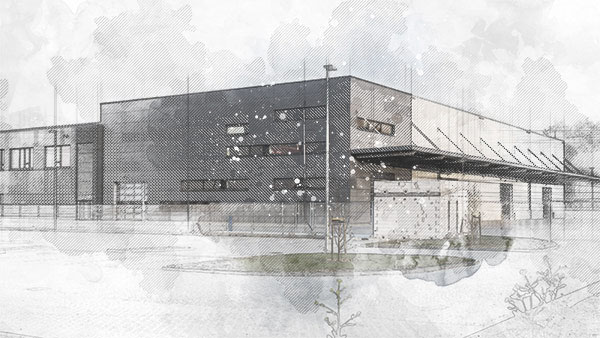 Hala SKK
Execution of the construction (raw state) of the two-storey office and social building and the 226 meters long prototype workshop. The buildings has silicate blocks walls and RC walls up to the height of 12,5 meters and the pre-tension pre-stressed concrete ceilings and the Filigran-type ceilings.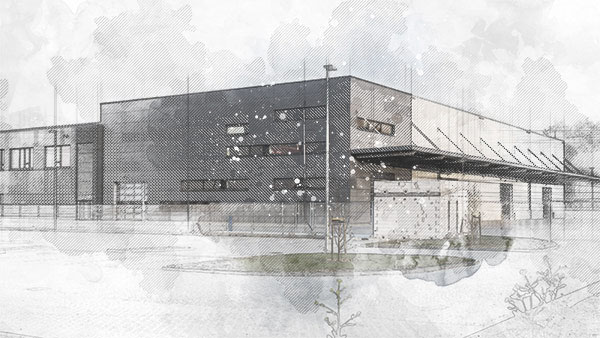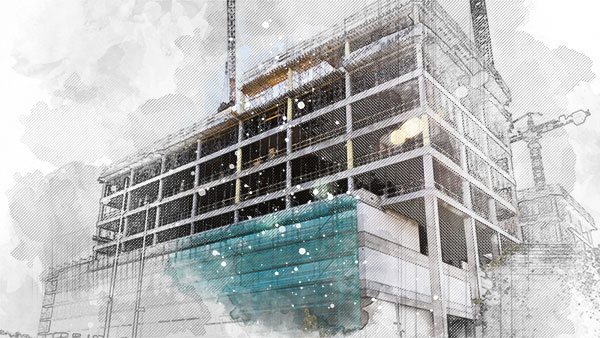 Office buildings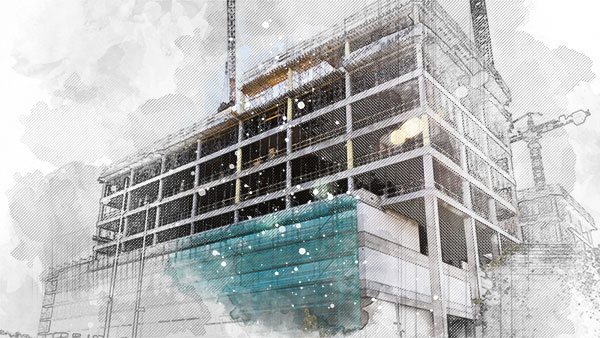 Alchemia
An office and social building. The group of buildings consisting of two underground storeys, four social storeys and two high-rise buildings: six- and eight-storey. Together it gives 12 overground storeys and 2 underground. The 13th storey is the technical part of the roof.
Offer
BAUHAUS
provides
general services for construction investments
in the Tri-City area. Our services include the following:
construction of building shells of all kinds – residential buildings, public buildings (schools, shopping centres, hotels, banks, treasuries, railway stations) industrial facilities, sacral buildings, etc.,
earth works,
carpentry works,
performing all kinds of reinforcements of foundations,
erforming all kinds of protection of excavation walls,
construction of all types of wall, ceiling, roof insulation (coating, spray, building paper, membranes),
construction of building with a "white tub" system,
construction of foundations and foundation plates,
construction of reinforced concrete walls of any geometry,
nstallation of composite and prefabricated walls,
construction of all types of ceilings – monolithic, filigree type, prestressed, prefabricated, etc. – at various heights and of various geometry and thickness,
construction of columns, reinforced concrete binders,
assembly of columns and prefabricated binders,
construction of bearing, filling and partition walls of all types of materials: concrete and gypsum blocks, limestone and ceramic hollow tiles, gas concrete, brick,
construction of balconies and monolithic stairs,
installation of balconies and prefabricated stairs,
onstruction of roofs of any structure (wooden, steel mixed) covered with tiles, sheet metal, etc.,
insulation of ceilings and slab roofs,
reinforced concrete structures.
In addition, the scope of our services includes:
storage reservoirs,
fire tanks,
transformer stations,
retaining walls,
skateparks
specialized foundations for chimneys, heating mains, industrial tanks,
turnkey construction projects – residential buildings, hotels, housing estates,
building design services,
nterior design,
project optimization,
cost analysis of projects,
modelling of construction projects.
Recommendations
Gdański Teatr Szekspirowski
download
(polish version)
Strabag Sp. z o.o
download
(polish version)
Hochtief Sp. z o.o.
download
(polish version)
Mitex S.A.
download
(polish version)
Robyg S.A.
download
(polish version)
NDI S.A.
download
(polish version)
Allcon S.A.
download
(polish version)
Arch-Deco Sp. z o.o.
download
(polish version)
Torus Sp. z o.o.
download
(polish version)
Mega S.A.
download
(polish version)
Sponsorship
Conditions of Supply
General terms and conditions for the service and delivery of materials and services. Here pdf version.
download
Work for us
Dear Sir or Madam. The "Work" tab has been created to make it easier for you to contact our company.
We have been in the construction market for a dozen or so years. We deal mainly with the construction of building shells of both residential and industrial buildings. We have the opinion of a good payer who, besides emphasising the quality of the work done, also cares about the satisfaction of the people who make this quality. We simultaneously run a dozen or so constructions even during severe winters and hot summers all year round, thanks to which we are constantly developing.
We need people and brigades wanting to bond permanently with our company in the professions of carpenter, steel fixer and bricklayer. We do not need master's diplomas, but we want the will to work, engage and practice in the profession and regularly attend work. If you are determined to be one of us, follow the instructions below.
To start working with BAUHAUS, you need to take a few steps:
Step 1 – Select the group you are interested in.
Step 2 – Step 2 – Click the " Apply" and fill out the Recruitment Form, enclosing a CV or offer (brigades).
Step 3 – Talk to a Recruiter to verify your work experience and competence to work at a chosen position.
In the CV please add the following clause: "I hereby authorize the processing of my personal data included in my job offer for the purposes necessary for the recruitment process in accordance with the Act of 29 August 1997 on the protection of personal data (Journal of Laws of 2002 No. 101, item. 926, as amended)"
Bricklayer, carpenter, steel fixer
Bricklayers', carpenters', steel fixers' brigades
Media
Contact
BAUHAUS sp. z o.o.
81-815 Sopot
ul. Tatrzańska 19
tel. +48 58 551-88-59
bauhaus@bauhaus.com.pl
NIP: 5851384960
REGON: 192638660
KRS: 0000082866
SĄD REJONOWY W GDAŃSKU,
XII WYDZIAŁ GOSPODARCZY
Find us: